This intense 1-day small group workshop will prepare bank and credit union HR professionals to support a high-producing, customer or member-focused sales and service culture. HR is at the center of the storm in sales culture transformation, and this conference will give you everything you need to provide the right advice and counsel to your organization's leadership team.
The workshop will be facilitated by Schneider Sales Management, Inc., the world's longest operating sales and HR consulting practice for banks and credit unions. Topics will include:
HR's central role in creating an ethical, customer-centric sales and service culture
Organizing for sales and service
Hiring bankers who can sell
Onboarding new employees
Training and certifying employees for mastery of selling skills
Creating balanced performance scorecards for each selling role
Building sales compensation and employee recognition plans that work
Jim Schneider, the pioneer of financial industry selling, and author of the new book, The Sales Producers, How the World's Best Salespeople Sell, is keynote speaker for the conference.
This one of a kind workshop will take just one day of your time and is available for just $595 per attendee.
One of our clients saved $2 million with our ideas for compensation alone, and Schneider clients routinely out-produce their peers in employee sales productivity and engagement, and in customer satisfaction and loyalty. Reservations are limited to 25 participants, but if the workshop is oversold we may add additional workshops the same week.
May 7, 2018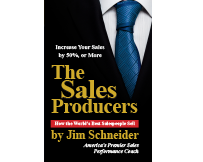 The keynote speaker is Jim Schneider, CEO of Schneider Sales Management, Inc. and author of the new book, The Sales Producers, How the World's Best Salespeople Sell. Every participant will receive a copy of Mr. Schneider's book, workshop notes, and a personal assessment of his or her fit for various sales and service roles.
PayPal Registration